When we mention satin, the vast majority of us will begin to think of grand and dramatic evening gowns, cummerbunds, dress shoes and basically a 1950's glamour (and perhaps just a little bit about luxury bedding sets too!). Satin is experiencing a revival though and it is slinking its way out of evening wear and into the everyday, and we are loving it!
With that gorgeous dreamy sheen, soft as silk and pretty mesmerising to look at in general, there is no reason not to love satin, so if you don't yet own any in your wardrobe, it could be time to invest in a few pieces. These items don't have to be dressy and should ideally be intended for everyday wear. So start embracing satin, and get the look into your life.
Trainers
Trainers continue to be everywhere and since they are so wearable and go with pretty much our entire wardrobe, what could be better than showing a flash of satin with your footwear? Ok so they're going to be ever so slightly impractical (that's what shoe protection spray is for right?!), but we can't help but be in love with these rose gold beauties from Office. In that gorgeous shade and with just the right amount of shimmer, these are just unbelievably perfect for stepping out and about this spring, and are great way to add some satin into your style.
Joggers
Who said jogging bottoms couldn't be glamorous if you want them to be?! Certainly not us since we are serious fans of these stunning ones from Missguided. Promising to be super comfy (they are joggers after all!), and with pockets, a tie waist and cuffed bottoms, these will look great whether you're going on a big night out or just nipping to the shops. Again in that divine rose gold shade, we know these are going to be silky soft to wear and are sure to become one of our style staples this spring.
Jacket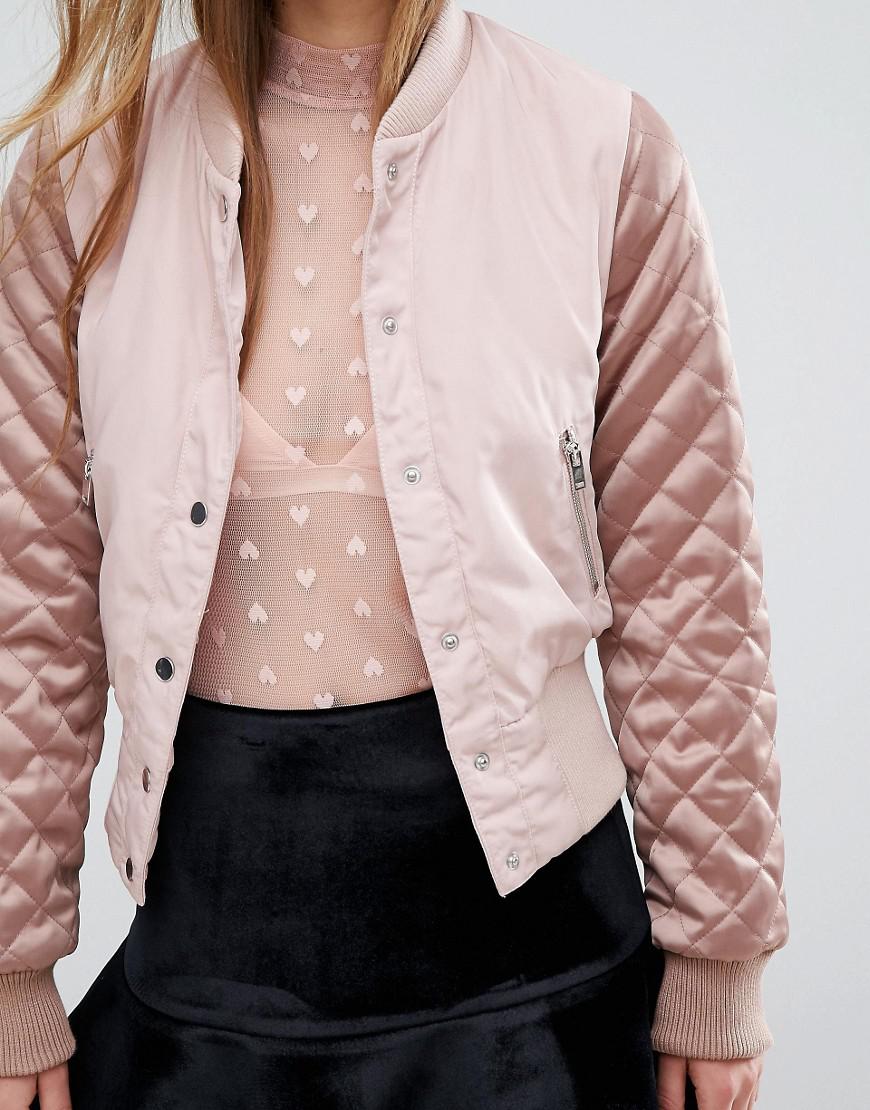 Can we just say how much we adore this little bomber jacket?! It's like something Barbie herself would be found sporting after she's been to her barre class or something, and we are certainly in love! Not too over the top with satin, the quilted sleeves add just the right touch, and will have you wondering why you don't own let some more satin into your wardrobe! This blush pink is such a good versatile colour too and lends itself perfectly to this season's pastel palette. We found it at Asos, and if it's satin casual wear you're after, you're going to be spoiled for choice.